The Snowbirds are here. What, you may ask are the Snowbirds? They are a demonstration team composed of serving members of the Canadian Armed Forces, Snowbirds 431. They wi
ll be performing at the Waterloo-Wellington Airport air show this weekend, both Saturday and Sunday. Yesterday, we saw them overhead on our way back from the asparagus farm, presumably practicing which I assume they do all the time. We are hoping we can see some of it from our balcony as the airport is not far from us. Unfortunately the show is likely to be way too crowded for us, they have parking set up miles away, I am guessing they are using buses to take people to the show.  I have never really seen an air show and I found seeing them yesterday to be quite exciting. The nearest I ever got to an air sho
w was once in North Carolina when there was one at a local Marine base and we got to watch some of it from our boat anchored near the end of the runway. Being planes, they cannot concentrate themselves just in the space above the airport so we might be lucky enough to see something today and tomorrow.
An odd story in the news last night and this morning, a driver was transporting some animals from a circus to a zoo and stopped for a few hours rest. When he went to get his truck and trailer it had been stolen. The trailer actually contains a tiger and two camels. It would be funny except they are now worried about the animal's health – they will of course need water, more so because it is pretty warm out there at the moment. One hopes the thieves will leave the trailer somewhere and maybe call in its location as soon as possible.
Yesterday I mentioned the various recipes Emeril Lagasse had for Father's Day. Below is one for lamb kebabs which didn't win, but sounded pretty good to me. Sorry if you are amongst those who don't like lamb, but I love it. Actually, tonight we are going to have Matt's specialty of Marinated London Broil – I have posted the recipe here before.
Emeril's Greek-Style Lamb Kebabs
Father's Day is just around the corner. Celebrity chef, TV host and author Emeril Lagasse offers this great meal for idea for Dad's special day.
Ingredients
1 1/2 cups finely chopped onion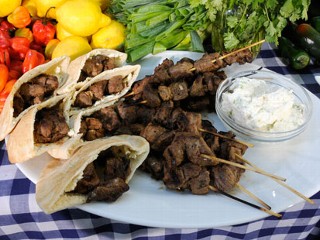 1 tbs grated lemon zest
1/4 cup freshly squeezed lemon juice
1/4 cup chopped fresh parsley
1/4 cup chopped fresh cilantro
3 tablespoons chopped fresh mint
2 teaspoons salt
1 teaspoon ground cumin
1 teaspoon sweet paprika
1 teaspoon freshly ground black pepper
1/4 cup olive oil
2 to 2 1/2 pounds boneless leg or shoulder of lamb, cut into 1-inch cubes (with some of the fat still attached)
8 to 10 bamboo skewers
8 pita breads, warmed, for serving
Feta spread, for serving
Cooking Directions
1. In a large bowl, combine the onion, lemon zest, lemon juice, parsley, cilantro, mint, salt, cumin, paprika, pepper, and olive oil. Stir well. Add the lamb and toss to coat it with the marinade. Cover with plastic wrap and refrigerate for 2 to 4 hours.
2. Soak the skewers in warm water for about 1 hour before assembling the kebabs.
3. Pre-heat your grill to high, and lightly oil the grate.
4. Thread the lamb onto the soaked skewers, and place them on the grill. Cook -- turning frequently to promote even browning -- for 12 to 14 minutes.
5. Wrap a pita bread around the meat on a skewer, and while holding the bread firmly around the meat, twist the skewer out of the meat. Drizzle the meat with feta spread to your liking. Repeat with the remaining pitas and skewers, and enjoy!
Feta Spread
4 ounces feta cheese, crumbled
4 ounces cream cheese, at room temperature
1/2 cup Greek-style yogurt
2 tablespoons minced green onion tops
1 tablespoon minced fresh mint
2 teaspoons freshly squeezed lemon juice
1 1/2 teaspoons minced garlic
1 teaspoon olive oil
1 teaspoon finely grated lemon zest
1/2 teaspoon salt, or more to taste (depending on the saltiness of the feta)
1/8 teaspoon cayenne pepper
Cooking Directions
Combine all the ingredients in a bowl, and stir to blend well. Cover with plastic wrap and refrigerate for at least 1 hour or up to overnight to allow the flavors to blend.
About 2 cups
Happy Father's Day and have a great weekend (Mike, if you are reading this, tell Tina it didn't arrive LOL)